Gate Installation
The Gate Doctor® provides turn-key installation solutions for all types of swing and slide gates, cantilever gates, barrier gate operators and overhead swing gates.
a professional level of detail during the design and planning phases through installation. System design experts will guide you through the entire process to ensure your application meets specific criteria and all applicable codes and requirements. Gate systems may require road modifications to widen entrance and exit lanes for smooth traffic flow. New curbs, islands, concrete and asphalt work. 
Installation options can include connecting and containment fence or brick and stone columns. Entrance road modifications including new curbs, islands, concrete and asphalt work which are part of a gate system which will be properly installed for ease of use and smooth traffic flow. For professional support, please contact us and our knowledgeable sales department will assist you.
 System Design:
The Gate Doctor® has been assisting property management companies, general contractors, architects and engineering firms to develop a variety of access control systems to meet their project applications. System Design has been part of our success because of our continued support to these companies to properly plan and implement a gate system or access control system. The Gate Doctor® offers system design assistance for.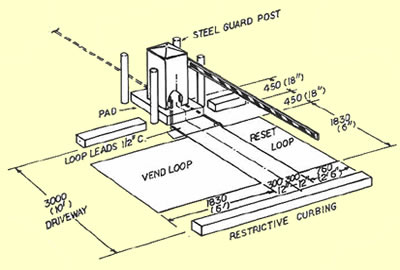 Vehicle Gate Systems
Card Access Systems
Pedestrian Gate Systems
UL 325 Safety Compliance
Fire Code Compliance
Building Access Control Systems
CCTV Security/Surveillance Camera Placement